Deck & Porch Framing Lumber Preservative Treatments
PRESERVATIVE TREATED LUMBER - CONTENTS: Deck framing lumber treatment methods. How to use pressure treated lumber. Health Concerns for Chromated-Copper Arsenate (CCA) Pressure Treated Lumber. Advice for Existing Structures Built Using Chromated-copper Arsenate (CCA) Treated Lumber. Health Precautions for Alkaline Copper Quat (ACQ)-Treated Lumber. Treatment Levels & Durability of Alkaline Copper Quat (ACQ)-Treated Lumber. Borate Treatment for Lumber & Deck Framing. Increased Corrosion Potential for ACQ and Copper Azole-Treated Lumber
POST a QUESTION or READ FAQs about choosing & using treated wood or lumber in or at buildings
InspectAPedia tolerates no conflicts of interest. We have no relationship with advertisers, products, or services discussed at this website.
Preservative treated wood:
Health & environmental concerns when working with or using treated lumber: this article discusses deck framing lumber treatment methods, the use of pressure treated lumber, Health Concerns for Chromated-Copper Arsenate (CCA) Pressure Treated Lumber.
Advice for Existing Structures Built Using Chromated-copper Arsenate (CCA) Treated Lumber, Health Precautions for Alkaline Copper Quat (ACQ)-Treated Lumber, and Retention Ratings: Treatment Levels & Durability of Alkaline Copper Quat (ACQ)-Treated Lumber.
We also provide a MASTER INDEX to this topic, or you can try the page top or bottom SEARCH BOX as a quick way to find information you need.
Green links show where you are. © Copyright 2017 InspectApedia.com, All Rights Reserved.
Guide to Pressure Treated Framing Lumber Methods, Chemicals, Durability, Health Concerns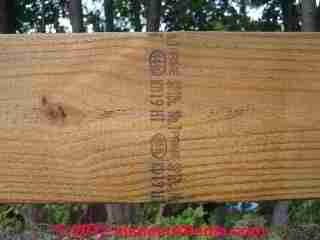 As described in Best Practices Guide to Residential Construction, Chapter Four, Best Construction Guide for Building Decks and Porches
Most builders choose pressure-treated lumber for the structural framework because of its low cost and high durability. At this time there are few viable alternatives.
However, composite and synthetic products are beginning to enter the market and are worth considering, especially for environmentally sensitive sites, such as wetlands or other applications where clients object to the use of treated lumber (see Table 4-1 shown just below).
[Click any image or table for a larger, more-detailed version.]

Pressure-Treated (PT) Lumber
The vast majority of residential decks were framed with lumber treated with chromated-copper arsenate (CCA) until 2004, when CCA was phased out and replaced primarily by alkaline copper quat (ACQ) and copper azole.
The treated lumber is typically Southern yellow pine in the eastern United States and hem-fir in the West. The more expensive and stronger Douglas fir is also used in the West, but it is more likely treated with the waterborne treatment ammoniacal copper zinc arsenate (ACZA).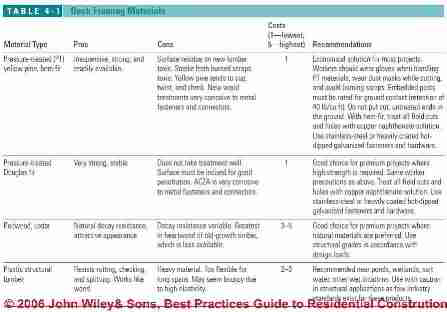 Incising Lumber for Treatment Penetration
Both Douglas fir and hem-fir are typically "incised" with surface cuts for better penetration of the treatment chemical. Even with incising, however, full chemical penetration is rarely achieved with these species, so the center of that wood remains vulnerable to rot, particularly in 4x and larger material.
With these species, effective field treatment of holes and cuts with a liquid preservative is essential.
Health Concerns for Chromated-Copper Arsenate (CCA) Pressure Treated Lumber
Despite CCA's track record as an effective, economical wood preservative, its safety has long been questioned by health and environmental advocates. Their primary focus has been CCA's heavy concentration of arsenic, a known carcinogen.
Although most experts agree that leaching of arsenic from CCA lumber is minimal and poses negligible health risks to end users, the industry acknowledges that CCA does pose risks to workers who handle the wet wood or burn scraps, and significant pollution around treating plants has been well documented.
Also see Wood Construction Products MSDS.
Phase Out of Chromated-copper Arsenate (CCA) Treated Lumber
In response to these concerns, manufacturers began a voluntary phase out in 2003 of all CCA treated lumber for noncommercial applications. Starting January 1, 2004, the Environmental Protection Agency (EPA) banned the manufacture of CCA-treated lumber intended to be used in residential settings, including retaining walls, decks, fencing, and playground equipment.
Pressure-treated shakes and shingles were exempted. CCA treatment will also still be available for plywood and heavy timbers used in commercial, industrial, and marine applications. Existing stocks of CCA-treated lumber were mostly depleted by the end of 2004.
Advice for Existing Structures Built Using Chromated-copper Arsenate (CCA) Treated Lumber
The EPA has issued no warnings regarding existing installations of CCA-treated lumber. However, for homeowners who are concerned about potential exposure to chemicals leaching out of the wood, researchers at the USDA Forest Products Laboratory (FPL) recommend periodically treating the pressure-treated lumber with a water-repellant or a semitransparent penetrating stain. Film-forming finishes, such as paints, are not recommended.
New Wood Preservative & Deck Lumber Treatment Chemicals: Alkaline Copper Quat (ACQ) and Copper Azole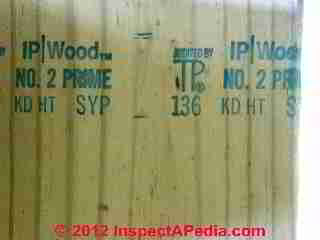 The two main chemicals replacing CCA are the waterborne compounds alkaline copper quat (ACQ) and copper azole.
Copper azole Type B (CA-B) has largely replaced Type A (CBC-A) in the United States and Canada.
Both ACQ and copper azole perform as well as CCA and are free of any EPA-listed hazardous compounds.
As with CCA-treated wood, premium treated lumber is available with a factory-applied water repellant. With significantly higher copper content than CCA lumber, the new materials are 10 to 15% more expensive.
Of greater concern is the fact that the higher concentration of copper makes the lumber more corrosive to certain metals and metal coatings (see "Increased Corrosion Potential," next page).
List of Wood Preservative Treatments & Methods
By 2016 Wikipedia (EN) listed about twenty different wood preservative chemicals or treatments and about fifteen different methods of applying these, including the following:
Chemical Preservatives for Wood
Micronized copper technology

Alkaline copper quaternary
Copper azole

Copper Naphthenate
Chromated copper arsenate (CCA)
Other copper compounds
Borate preservatives
PTI wood preservatives
Sodium silicate-based preservatives
Potassium silicate-based preservatives
Bifenthrin spray preservatives
Fire retardant treated
Oil-borne preservatives

Coal-tar creosote
Linseed oil

Other emulsions

Light organic solvent preservatives (LOSP)

Epoxy
New technologies - Wood acetylation
Natural preservatives

Copper plating
Naturally rot-resistant woods
Tung oil
Heat treatments
Mud treatment
Application Processes for Wood Preservatives
Non-pressure processes

Brush and spray treatments
Dipping
Steeping
Kyanizing
Gedrian's Bath
Preservative Precipitation

Pressure processes

Full-cell process
Fluctuation pressure process
Boucherie process
High-pressure sap displacement system

Incising
Microwaving
Charring

Wikipedia provided background information about some topics discussed at this website provided this citation is also found in the same article along with a " retrieved on" date. Because Wikipedia and other website entries can be amended in real time, we cite the retrieval date of such citations and we do not assert that the information found there is always authoritative.
Wood preservation, Wikipedia (EN), retrieved 2016/07/02, original source: https://en.wikipedia.org/wiki/Wood_preservation

Health Precautions for Alkaline Copper Quat (ACQ)-Treated Lumber
Despite the lack of chromium, arsenic, or other hazardous chemicals, wood treated with alkaline copper quat (ACQ) and copper azole carry essentially the same handling instructions as CCA-treated materials. Workers handling ACQ and copper azole are still advised by the EPA to wear gloves or wash hands after contact, wear a dust mask when cutting, and not to burn the scraps. Like CCA-treated wood, it is not recommended for direct contact with food or drinking water.
Retention Ratings: Treatment Levels & Durability of Alkaline Copper Quat (ACQ)-Treated Lumber
While most CCA lumber was rated for ground contact, manufacturers are holding down costs with ACQ and copper azole by limiting treatment levels to the expected application of the lumber. For example, deck boards, 2x6s, and 4x4s at the lumberyard will typically have three different treatment levels (Table 4-2 below).
In most cases, lumber will be stamped or tagged with a designation such as "decking," "above ground," "ground contact," or "PWF" (permanent wood foundation). Make sure the material purchased is rated for the intended application or one level higher.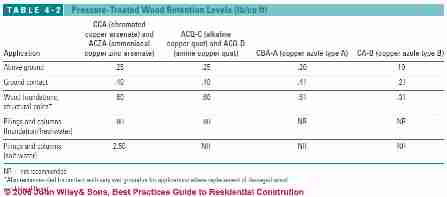 Borate Treatment for Lumber & Deck Framing
Wood preservatives based on borate compounds have been used for decades abroad and are slowly becoming available in the United States. Borates are noncorrosive to metals and harmless to pets and humans, but they are very effective against insects and decay. Borate's main limitation is its tendency to leach out of wood that is buried in soil or exposed to regular wetting, making it unsuitable for decks or other exterior applications.
New techniques to better fix the compounds into wood are under development, however, and may soon offer a viable alternative to copper-based treatments.
Increased Corrosion Potential for ACQ and Copper Azole-Treated Lumber
Because of their higher concentrations of copper, ACQ and copper azole are significantly more corrosive to aluminum, steel, and galvanized coatings than CCA (see "Galvanic Corrosion," page 83). Preliminary tests have also shown that formulations with ammonia-based carriers (used for better penetration in heartwood species such as Douglas fir) are more corrosive than those with an amine or hybrid bases.
Many factors affect corrosion rates, but some studies have found ACQ-treated wood to corrode untreated steel up to four times faster than CCA and to attack galvanized coatings at twice the rate of CCA.
Biodegradable Wood Preservatives
A recent addition to wood treatments is Wolmanized® L3 is described as a low-impact, long-lasting preservative treatment with lasting resistance to termites and fungal decay. - Thanks to deck expert Mark Morsching, Everlast for this update, October 2010. (see Deck & Porch Products, Manufacturers) below.
Life Expectancy & Warranty Period for Treated Wood in Various Applications
We have moved this topic to PRESERVATIVE TREATED WOOD LIFE
Deck & Porch Resources, Products, Manufacturers: Where to Buy
Deck & Porch Wood Treatment Companies
Arch Wood Protection, Arch Wood Protection, Inc., Arch Treatment Technologies, Inc., 5660 New Northside Dr., Suite 1100 Atlanta, GA 30328, (678) 627-2000- http://www.archchemicals.com
Arch produces Wolmanized® pressure-treated wood
(www.wolmanizedwood.com Copper-azole and borate-treated wood products with optional water repellent) and
Wolmanized® L3, described as a low-impact, long-lasting preservative treatment with lasting resistance to termites and fungal decay. The biocides used in Wolmanized® L3 are biodegradable so they do not accumulate in soils below a deck constructed of this material.
2007 MSDS for Wolmanized Treated Wood, web search 11/9/2010, original source:
http://petersonwoodtreating.com/PDF/Wolmanized%20L3%20Outdoor%20Wood%20MSDS%20041007.pdf
1998 MSDS for Wolmanized Treated Wood, web search 11/9/2010, original source: http://longlifetreatedwood.com/pages/msds%20form.htm
Also see Wood Construction Products MSDS

Osmose, Inc. 1016 Everee Inn Road, Griffin, Georgia 30224, Phone: (770) 233-4200 Fax: (770) 229-5225http://osmosewood.com/,
www.osmose.com ACQ- and borate-treated wood products with water repellent
EndCoat™ BROWN Pressure Treated Wood Material Safety Data Sheet (MSDS)

EndCoat™ SOFT GREEN Pressure Treated Wood Material Safety Data Sheet (MSDS)
- web search 11/9/2010, original source: http://www.osmosewood.com/canada/endcoat/msds.html
Chemical Specialties www.treatedwood.com ACQ-treated wood products with optional water repellent
Chemical Specialties, Inc. . Great Southern Wood Preserving, Incorporated, P.O. Box 610, Abbeville, Alabama 36310, Tel: 334) 585-2291

YellaWood® MSDS MICRONIZED COPPER QUATERNARY (MSDS)
Original source: http://www.greatsouthernwood.com/uploadedFiles/YW_MSDS_063008.pdf
Mcronized Copper Azole Treated Wood(MSD)
Original: http://www.greatsouthernwood.com/GSWPCMS/uploadedFiles/YW_MCA_MSDS 81908.pdf

N-Durz® MSDS N-Durz® Borate Treated Wood (MSDS)
Original: http://www.greatsouthernwood.com/uploadedFiles/NDurzMSDSv2.pdf

ACQ MSDS ACQ Treated Wood (MSDS)
Original: http://www.greatsouthernwood.com/uploadedFiles/ACQ_MSDS_022608.pdf

CCA MSDS CCA Treated Wood (MSDS)
Original: http://www.greatsouthernwood.com/uploadedFiles/CCAMSDS.pdf
Suppliers of Composite Structural Lumber for Decks & Porches
U.S. Plastic Lumber, Boca Raton, FL www.usplasticlumber.com Trimax and Durawood structural plastic lumber
Composite Decking System Suppliers
Certainteed Corp. www.certainteed.com Boardwalk solid composite decking with hidden fasteners and optional railing system
Composite Building Products International www.xtendex.com Xtendex hollow composite decking system with optional railing
Correct Building Products www.correctdeck.com Solid composite decking with hidden fasteners and optional railing system
Fiber Composites www.fibercomposites.com Fiberon solid composite decking and optional railing system
Kadant Composites www.geodeck.com Geodeck hollow composite decking and railing system
Kroy Building Products www.kroybp.com Timberlast solid composite decking with optional hidden fastening system
Louisiana-Pacific Corp www.weatherbest.lpcorp.com. WeatherBest solid composite decking, railings, and accessories
Nexwood Industries Limited www.nexwood.com Hollow composite decking and railing systems
Tendura www.tendura.com TenduraPlank solid tongue-and-groove composite flooring for porches; natural finish or primed for painting
Thermal Industries www.thermalindustries.com Dream Composite solid tongue-and-groove composite decking system with optional vinyl railings
TimberTech Limited www.timbertech.com Floorizon hollow composite decking system, solid composite decking planks, and optional railing system
Trex Company www.trex.com Solid composite decking
Weyerhaeuser Building Products www.choicedek.com ChoiceDeck solid composite lumber and optional railings
Deck & Porch Industry Associations
American Wood Preservers Association (AWPI) www.awpa.com
California Redwood Association www.calredwood.org
Deck Industry Association www.deckindustry.org
Forest Stewardship Council www.fscus.org Information on certified tropical hardwoods
Rainforest Alliance, Smartwood Program www.rainforest-alliance.org Information on certified tropical hardwoods
Southern Forest Products Association www.sfpa.org
Southern Pine Council www.southernpine.com
Western Wood Products Association www.wwpa.org
Western Wood Preservers Institute www.wwpinstitute.org
-- Adapted with permission from Best Practices Guide to Residential Construction.
This article series discuss best porch & deck construction practices, including choice of framing materials, decking or flooring choices & installation, how to select and use deck and porch structural and flooring fasteners, actual deck & porch framing construction details & connections, deck joist & beam span tables, how to build leak-proof rooftop decks, construction of covered & screened porches, deck & porch railing construction & materials, choices of finishes and stains for decks & porches, and past & current deck lumber preservative treatments with related health & environmental concerns.
...
Continue reading at PRESERVATIVE TREATED WOOD LIFE or select a topic from closely-related articles below, or see our complete INDEX to RELATED ARTICLES below.
Or see DECK FLASHING LEAKS, ROT Case Study
See Rot-Resistant Deck Lumber & Flooring for a disucssion of lumber and flooring alternatives to preservative-treated wood.
Or see New Preservatives and Corrosion where we describe structural fasteners designed for use in pressure-treated lumber.
Suggested citation for this web page
PRESERVATIVE TREATED FRAMING LUMBER at InspectApedia.com - online encyclopedia of building & environmental inspection, testing, diagnosis, repair, & problem prevention advice.
Or use the SEARCH BOX found below to Ask a Question or Search InspectApedia
Or see
Or use the SEARCH BOX found below to Ask a Question or Search InspectApedia
...
Frequently Asked Questions (FAQs)
Try the search box below or CONTACT US by email if you cannot find the answer you need at InspectApedia.
Question: Does treated lumber off-gas VOC's
(Mar 28, 2014) Gene Young said:
Does treated lumber have VOC's
Reply:
Gene, using the current MSDS data from Georgia Pacific's MSDS #33Q: ACQ Pressure Treated Lumber as an example we see that the active ingredient in the treatment process is Alkaline Copper and Quaternary Ammonium Compounds Type D, and that there are appropriate warnings about inhaling or contact with dust from the product. There is no mention of airborne gases nor VOCs.
Here is the handling instruction:
Handling
Caution. Do not burn treated wood. Do not use pressure treated wood as mulch. Use only with
adequate ventilation. Use personal protective equipment as required. Avoid contact with skin,
eyes and clothing. Wash hands thoroughly after handling. Dust can form an explosive mixture
in air. Keep formation of airborne dusts to a minimum. Keep away from heat and sources of
ignition
Question: are there VOC offgas hazards from the treated plywood in my sauna?
(Sept 9, 2014) Anonymous said:
The floor of my sauna is pressure treated plywood. Is there danger of VOCs? Is there a recommended sealer or covering that would mitigate this?
Reply:
Anon
There may be formaldehyde off gassing from some plywood and other products constructed using adhesives, though not from the wood preservatives as we answered just above.
See FORMALDEHYDE HAZARDS - home

VOC outgassing from plywood is likely to be so low (if any) as to be hard to detect, especially after it's been cooked in a sauna. And our research about formaldehyde off gassing in laminate flooring cites a Korean study that confirmed that at high temperatures the formaldehyde is "baked out" rather rapidly.
You can certainly paint plywood with low VOC paint though I'd be worried about slip and fall hazards if the surface is then too smooth or slippery.
...
Ask a Question or Search InspectApedia
Questions & answers or comments about choosing & using treated wood or lumber in or at buildings.
Use the "Click to Show or Hide FAQs" link just above to see recently-posted questions, comments, replies, try the search box just below, or if you prefer, post a question or comment in the Comments box below and we will respond promptly.
Search the InspectApedia website
Technical Reviewers & References
Click to Show or Hide Citations & References
Books & Articles on Building & Environmental Inspection, Testing, Diagnosis, & Repair
Our recommended books about building & mechanical systems design, inspection, problem diagnosis, and repair, and about indoor environment and IAQ testing, diagnosis, and cleanup are at the InspectAPedia Bookstore. Also see our Book Reviews - InspectAPedia.
Manual for the Inspection of Residential Wood Decks and Balconies, by Cheryl Anderson, Frank Woeste (Forest Products Society), & Joseph Loferski, October 2003, ISBN-13: 978-1892529343, $39.00 at Amazon.com or at the InspectAPediaBookstore
Masonry structures: The Masonry House, Home Inspection of a Masonry Building & Systems, Stephen Showalter (director, actor), DVD, Quoting:
Movie Guide Experienced home inspectors and new home inspectors alike are sure to learn invaluable tips in this release designed to take viewers step-by-step through the home inspection process. In addition to being the former president of the National Association of Home Inspectors (NAHI), a longstanding member of the NAHI, the American Society of Home Inspectors (ASHI), and the Environmental Standard Organization (IESO), host Stephen Showalter has performed over 8000 building inspections - including environmental assessments. Now, the founder of a national home inspection school and inspection training curriculum shares his extensive experience in the inspection industry with everyday viewers looking to learn more about the process of evaluating homes. Topics covered in this release include: evaluation of masonry walls; detection of spalling from rebar failure; inspection of air conditioning systems; grounds and landscaping; electric systems and panel; plumbing supply and distribution; plumbing fixtures; electric furnaces; appliances; evaluation of electric water heaters; and safety techniques. Jason Buchanan --Jason Buchanan, All Movie Review
...