House Wrap Installation Details

HOUSEWRAP INSTALLATION DETAILS - How properly installed housewrap can prevent water leakage through building exteriors. What are the causes, cures, prevention methods for building wall leaks through siding and at or around windows, doors, and other penetrations.

Rain screen principle
Sheathing wrap / house wrap on buildings
Flashing membranes on buildings
Building wall flashing details & materials

Questions & Answers about choices & installation of housewrap and other exterior water-resistive barriers on buildings
InspectAPedia tolerates no conflicts of interest. We have no relationship with advertisers, products, or services discussed at this website.
Housewrap installation: this article provides details on proper installation of air and water barrier housewraps on buildings.
Green links show where you are. © Copyright 2013 InspectAPedia.com, All Rights Reserved. Author Daniel Friedman.
Building Sheathing Wrap - House Wrap Installation, Purposes, Guide
This article series discusses best practices construction details for building exteriors, including water and air barriers, building flashing products & installation, wood siding material choices & installation, vinyl siding, stucco exteriors, building trim, exterior caulks and sealants, exterior building adhesives, and choices and application of exterior finishes on buildings: paints, stains. In addition to the main page for this topic: VAPOR BARRIERS & HOUSEWRAP, readers should see HOUSEWRAP INSTALLATION DETAILS and HOUSEWRAP at SILLS, SOLES, TOP PLATES for details. Also see VAPOR BARRIERS & CONDENSATION in buildings. Readers can review concepts at WATER BARRIERS, EXTERIOR BUILDING and AIR SEALING STRATEGIES.
Readers should also be sure to see AIR LEAK MINIMIZATION and also AIR BYPASS LEAKS, and be sure to read ENERGY SAVINGS RETROFIT LEAK SEALING GUIDE. See BLOWER DOORS & AIR INFILTRATION and see HEAT LOSS DETECTION TOOLS for more sophisticated and accurate methods of detecting points of un-wanted building heat loss or heat gain. At THERMAL TRACKING & HEAT LOSS we describe other visual clues that can help spot points of significant air (and heat) leakage in buildings. Contact us to suggest text changes and additions and, if you wish, to receive online listing and credit for that contribution.
Adapted/paraphrased with permission from Best Practices Guide to Residential Construction. Steven Bliss.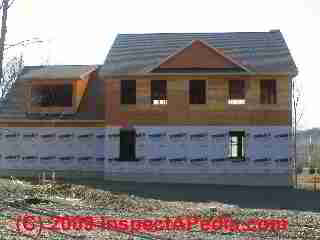 The primary goal of a sheathing wrap is to protect a building's structural components from water. At the same time, the sheathing wrap must be permeable enough to allow drying to the building's exterior if the framing or sheathing should get wet.
While the permeance and water resistance ratings of sheathing wraps vary significantly, how they are installed is far more important than the specific product used. The key is to always lap the sheathing wrap to shed water and to properly integrate the wrap with flashings so water is directed on top of the layer below.
All sheathing wraps fall into three basic types: asphalt felt, Grade D building paper, and synthetic housewrap. Grade D building paper is used primarily under stucco in the western United States and is essentially a lighter weight version of asphalt felt. Comparing one material to another is difficult since there is no single standard for all products, and even where manufacturers follow the same test standard, test conditions may vary dramatically from one company to the next.
Also see HOUSEWRAP AIR & VAPOR BARRIERS and VAPOR CONDENSATION & BUILDING SHEATHING for more details.
Building Sheathing Wrap Code Requirements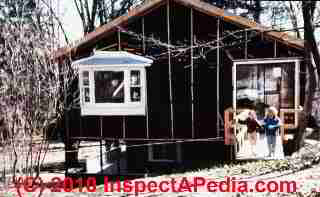 The home shown in our photo (left) was covered with No. 15 felt paper during the construction of the addition ca 1980 - a usage that was common practice but one that would not comply with current building codes.
The 2003 International Building Code calls for a "water resistive barrier behind the exterior veneer" consisting of flashings and a "weather-resistant sheathing paper" lapped at least 2 inches horizontally and 6 inches vertically.
It specifies asphalt-saturated felt that weighs at least 14 pounds per square and complies with ASTM D226, which means that most un rated No. 15 felt paper sold at lumberyards (which weigh closer to 7 pounds per square) do not comply.
Nearly all the plastic housewraps have been submitted to the model code authorities and accepted as substitutes for ASTM rated No. 15 building paper. If building in an area that follows the Model Energy Code (MEC), builders must either install a "vapor-permeable housewrap" on the exterior or seal all the penetrations in the building by using some combination of polyethylene, caulks, and gaskets on the interior.
Performance Measures for House Wrap / Sheathing Wraps
House-wrap Permeance Measurements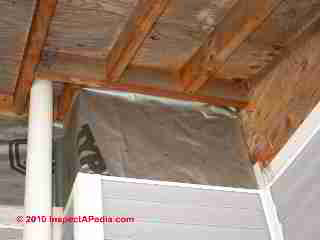 Definition of Permeance: Permeance ratings measure the rate at which water vapor passes through a material.
One perm equals one grain of water vapor passing through one square foot of material per hour per inch of vapor-pressure difference. Under ASTM standard E96, manufacturers can use either test A (dry cup) or test B (wet cup), which yield somewhat different results. Grade D building paper uses yet another standard for measuring permeance, which is roughly equivalent to a permeance rating of about 5, similar to asphalt felt materials.
Plastic housewraps range in permeance from around 5 to over 50.
In general, a sheathing wrap should have a permeance of at least 5 to enable wall assemblies to dry out should they get wet. Since common sheathing products like plywood and oriented-strand board (OSB) have permeance ratings of less than one, the sheathing is more likely to interfere with drying than the sheathing wrap.
Our housewrap photo (above) demonstrates that workmanship and installation details are important for the proper function of building sheathing wraps, including proper direction of lapping of sections of material, detailing at wall penetrations, and even inconsistent application or downright omissions where the material is just forgotten during installation.
Sheathing Wrap Water Resistance Measurements
Several different tests are used to measure the ability of building papers to stop liquid water. Grade D building papers must have a 10-minute rating under ASTM D779, commonly called the "boat test," in which a piece of building paper is folded in the shape of a boat and floated in a dish of water until it soaks through and wets a powder on top. Some Grade D papers are rated as high as 60 minutes.
In general, products with very high vapor permeability, such as DuPont's Tyvek®, do poorly in the boat test since water vapor can pass through and wet the indicator powder. However, Tyvek® and other non perforated plastic housewraps perform well in the alternate "hydro-head" test in which the material is placed under a 22-inch column of water and must not leak for five hours. More importantly, non perforated plastic housewraps generally do a very good job of shedding liquid water in the field.
House Wrap Air Infiltration Measurement & Standards
Many sheathing wrap suppliers tout their products' ability to block air infiltration, often citing proprietary test results. Some follow ASTM E283, in which an 8-foot-square wall section is tested before and after installation of the sheathing wrap. However, since the manufacturer is free to specify the type of wall assembly, one test is not comparable to another, and none simulates real job-site conditions with seams and holes in the sheathing wrap.
If a house already has a reasonably tight wall assembly, there is little evidence that a layer of housewrap will significantly tighten the building. In general, air-sealing efforts are better spent on the building's interior, using caulks and gaskets or a continuous polyethylene air/vapor barrier.
-- Adapted with permission from Best Practices Guide to Residential Construction.
Building Sheathing Wrap Materials & Choices
Installed carefully, any of the sheathing wraps can perform well and keep water out of walls. The three main choices are traditional asphalt felt, Grade D building paper, and the newer plastic housewraps. The optimal product will depend upon the siding choice, building details, and climate. With any sheathing wrap material, however, the key to good performance is to carefully lap the material to shed water. This job has been made easier by the introduction of a number of peel-and-stick membranes for use around windows, doors, and other trouble spots. General performance characteristics of sheathing wraps are summarized in Table 1-1 below.
Using Asphalt Felt as Building Wrap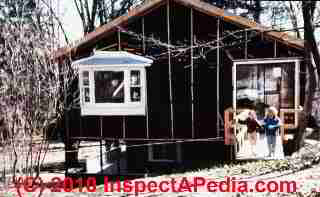 The old standby, asphalt felt, has a perm rating of around 5 and moderately good water resistance, making it suitable for use as a sheathing wrap. However, unlike plastic housewraps, asphalt felt will absorb water when wet.
Once wet, its permeability jumps from around 5 to as high as 60. In the event of water leaking into the wall, asphalt felt may help store some of the water, and its high permeability when wet will promote drying to the exterior. Housewrap, in contrast, tends to trap any liquid water that gets behind it.
Some contractors find felt easier to install and weave into flashings because of its rigidity and narrow roll width. Felt, however, tends to get brittle and deteriorate under long-term exposure to UV radiation [not that there is much UV radiation exposure of felt when it is located underneath building siding-DF] and is more prone to tear during installation than plastic housewraps. For situations where prolonged exposure is expected, plastic housewraps are better suited. Otherwise, asphalt building felt remains a valid choice for modern homes.
Although traditional 15-pound rag felt weighed 15 pounds per 100 square feet, the material sold today as No. 15 felt is made of recycled cardboard and sawdust and actually weighs only 7 to 8 pounds per square. Most of the lightweight building paper sold has no ASTM rating. ASTM-rated No. 15 felt is either a minimum of 7.6 pounds per square (ASTM D4689) or 11.5 pounds per square (ASTM D226). Similarly, the unrated variety of No. 30 felt typically weighs only 15 to 20 pounds per square versus 26 to 27 pounds for rated Type 2 felt (ASTM D226).
Grade D Building Paper for Building Wrap
Grade D building paper is an asphalt-impregnated kraft-type paper, similar to the backing on fiberglass insulation. Unlike asphalt felt, it is made from new wood pulp, rather than recycled material. Its most common use is under stucco in the western United States. The vapor permeance of Grade D paper is similar to asphalt felt. Its liquid water resistance ratings range from 20 to 60 minutes, as measured by using the boat test (see Water Resistance in "Water Resistive Barriers on Building Exterior Walls").
Because Grade D paper tends to deteriorate under prolonged wetting, the trend in three-coat stucco is to use two layers of 30-minute paper. Because the paper tends to wrinkle, the two layers tend to form a small air space, creating a rain-screen effect.
Using Plastic Housewrap on buildings
There are a wide range of plastic housewraps on the market. Most are non woven fabrics made from either polyethylene or polypropylene. Some have perforations to let water vapor pass through and the others are designed to let water vapor diffuse through the fabric itself. Because there is no single testing standard for plastic housewrap performance, it is difficult to make apples-to-apples comparisons. However, published performance data and limited field studies suggest the following:
Permeance to water vapor. The leading non perforated products (Tyvek®, R-Wrap®, and Amowrap®) are significantly more permeable to water vapor, ranging from 48 to 59 perms, than nearly all the perforated materials.
Water resistance. All sheathing wraps adequately shed water on vertical surfaces. Pooled water, however, will leak through most perforated plastic housewraps over time, while the non perforated materials will contain liquid water indefinitely. No. 15 asphalt felt retains water moderately well, but it allows some penetration over time.
Damage from extractives. Some researchers have noted that extractives leaching out of redwood and cedar siding can cause plastic housewrap to lose its water repellency and to deteriorate. Back-priming the wood siding or leaving an air space behind the siding will help prevent this. Stucco will also degrade plastic housewrap and is rarely installed over it.
Recommendations. Given their high permeance ratings and excellent resistance to liquid water, the non perforated housewraps are a good choice for most building applications. Traditional asphalt felt is also a good option. Many contractors find plastic sheathing wraps more convenient than asphalt felt in that they weigh only 1 to 2 pounds per square, and they are more flexible in the cold and more tear-resistant. Also they are available in 9- to 10-foot-wide rolls versus 3-foot rolls for asphalt felt.
Guide to Draining Housewraps
In the last few years, manufacturers have responded to the need for an air space and drainage plane with a variety of housewrap products that are either wrinkled or corrugated to provide an integrated air space. These include products intended primarily for stucco, such as DuPont's StuccoWrap®, and others developed for siding, such as Raindrop Housewrap, which is a plastic drainage mat from Pactiv, Inc. (see "Resources," page 47). The air space created by these products is minimal, ranging from 0.02 inch thick for StuccoWrap to 0.008 for RainDrop®. Although these materials may allow for some drainage, it is unlikely that they will provide any measurable airflow to promote drying.
A more promising approach is a 1/4-inch nylon matrix, called HomeSlicker®, which has vertical drainage channels and installs between the sheathing wrap and siding. The material is rigid and thick enough to resist compression by the siding but thin enough that windows, doors, and trim can be installed without furring.
Sheathing Wrap Installation Guidelines & Standards
The primary function of the sheathing wrap, whether building felt or plastic housewrap, is to protect against water leakage. It is critical, therefore, to cover the entire shell from roof to foundation, including gable ends and band joists, and always to lap upper layers over lower layers to shed water. It is also critical to integrate the sheathing wrap with all window, door, and other wall flashings if the weather barrier is to be successful.
The IRC requires asphalt felt to be minimum 14 pounds per square (ASTM D226), overlapped a minimum of 6 inches at vertical joints and 2 inches at horizontal laps. Plastic-housewrap manufacturers recommend 6 to 12 inches of overlap at vertical seams and 4 inches at horizontal laps, with all joints taped.
It is good practice to wrap corners at least 6 inches each way. If the walls are sheathed and wrapped before being raised, leave a 6- to 12-inch overlap at one side of each corner, and leave a 12-inch, unstapled flap at the bottom to cover the band joist area after the sheathing is nailed off. Wide staples with a minimum 1-inch crown are recommended every 12 to 18 inches for plastic housewraps.
-- Adapted with permission from Best Practices Guide to Residential Construction.
More details about housewrap products, inspection, failures, and diagnosis of problems can be found at HOUSEWRAP AIR & VAPOR BARRIERS and VAPOR CONDENSATION & BUILDING SHEATHING.
Frequently Asked Questions (FAQs) about housewrap and other exterior water-resistive barriers on buildings
Question: an RV park home manufacturer says they are required to use plastic wrap under Hardie panels - is this the best practice?
A manufacturer is building for us a RV Park Model, and their pride is that they build these like regular homes (not like mobile homes). However, they are telling us that under the siding (which will be Hardie panels with baton strips) there would be a plastic wrap which is mandatory. Under the plastic wrap they could use foam backer, OSB or fiber brace backer board. Plywood is also an option. Under that are the 2x4 and insulation. We are against the plastic wrap, and we are against plastic wrap with foam backer. They could supply it otherwise unfinished exterior, with OSB only or Plywood.
We have heard horror stories about the moisture trapping due to the plastic wrap and the foam. Do you have a recommendation what siding to use, which would allow the house the breath, and what material to install under the siding.
(FYI: Our regular house has had masonite for 30 years, and there is a felt-like material under it. The sections that have not been exposed to moisture in the upper sections, are still good. We do not have experience with the Hardie and the modern backer materials). - M.
Reply: Hardie board siding products require a water-resistive barrier underneath such as felt paper or Tyvek - not a solid plastic barrier. Impermeable finishes on the interior such a vinyl wallpaper are also not recommended with foam sheathing.
If I understand the question, the wall from the outside in consists of:
Hardie panel (fiber-cement) siding
Plastic wrap (permeable like Tyvek or impermeable like polyethylene?)
Optional rigid foam board
2x4 with fiberglass
Unknown interior finish material
Hardie board siding products require a water-resistive barrier underneath such as felt paper or Tyvek.  An impermeable plastic wrap should never be used on the exterior.
If the builder wants to use foam board, as mentioned, he should also omit any interior vapor barrier. 
In general, a house with foam sheathing should be able to dry to the interior, so impermeable finishes on the interior such a vinyl wallpaper are also not recommended with foam sheathing.
The other key factor is the R-value of the foam sheathing relative to the climate and to the R-value of the cavity insulation. In general, foam sheathing keeps wall cavities dryer by warming the wall cavity and preventing condensation.
But the foam sheathing must be thick enough to prevent condensation on the back of the foam in cold weather. With 2x4 walls insulated with fiberglass or cellulose, the minimum R-value of the foam should be R-10 near the Canadian border, R 7.5 across the northern US and New England, and R-5 across the middle of US (based or IRC Table R601.3.1).
The code does not specify minimum levels for exterior foam in the South since condensation in cold weather is generally not an issue there. - S.B.
...
Ask a Question or Search InspectApedia
Questions & answers or comments about choices & installation of housewrap and other exterior water-resistive barriers on buildings.
Ask a Question or Enter Search Terms in the InspectApedia search box just below.
Technical Reviewers & References
Related Topics, found near the top of this page suggest articles closely related to this one.
Best Practices Guide to Residential Construction, by Steven Bliss. John Wiley & Sons, 2006. ISBN-10: 0471648361, ISBN-13: 978-0471648369, Hardcover: 320 pages, available from Amazon.com and also Wiley.com. See our book review of this publication.
Paul Galow - technical consultant on networking, LAN design, applications support. Galow Consulting Services, 914-204-1749, email: paulgalow@galowconsulting.com
John Rudy, Advantage Home Inspections, Flemington N.J. 08822 home inspector, 908-806- 6364, Home, Radon & Termite Inspections, Central & Parts of North New Jersey, email: jonadvantage1@yahoo.com
Books & Articles on Building & Environmental Inspection, Testing, Diagnosis, & Repair
The Home Reference Book - the Encyclopedia of Homes, Carson Dunlop & Associates, Toronto, Ontario, 25th Ed., 2012, is a bound volume of more than 450 illustrated pages that assist home inspectors and home owners in the inspection and detection of problems on buildings. The text is intended as a reference guide to help building owners operate and maintain their home effectively. Field inspection worksheets are included at the back of the volume. Special Offer: For a 10% discount on any number of copies of the Home Reference Book purchased as a single order. Enter INSPECTAHRB in the order payment page "Promo/Redemption" space. InspectAPedia.com editor Daniel Friedman is a contributing author.

Or choose the The Home Reference eBook for PCs, Macs, Kindle, iPad, iPhone, or Android Smart Phones. Special Offer: For a 5% discount on any number of copies of the Home Reference eBook purchased as a single order. Enter INSPECTAEHRB in the order payment page "Promo/Redemption" space.