Porch & Deck Railing / Guardrail Code FAQs
Q&A on guardrail construction best practices
InspectAPedia tolerates no conflicts of interest. We have no relationship with advertisers, products, or services discussed at this website.
FAQs about the Best Practices for Building Guardrails on Decks & Porches:
This article series describes recommended construction practices for deck safety, deck railing requirements, guard railing construction and building codes, and critical safe-construction details for deck and porch rails, guardrails, and exterior stair guard railings and handrails.
We also provide a MASTER INDEX to this topic, or you can try the page top or bottom SEARCH BOX as a quick way to find information you need.
FAQs about Building Safe, Legal Deck, Porch Railings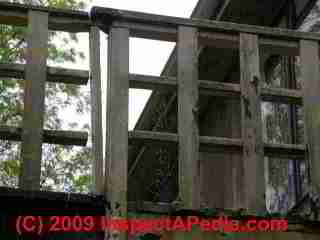 These questions and answers about deck railings or guardrails were posted originally at DECK & PORCH GUARDRAILINGS - be sure to see that article.
[Click to enlarge any image]
Martin:
My opinion the model codes certainly do permit some guardrails to be built without posts - depending on the type and design. The model codes specify the strength of the railing or guardrail that's required not the details of How It's to be constructed.

Your guardrail needs to be able to withstand certain loads.

Reasons for using posts (or not) when installing a guardrail are detailed at GUARDRAIL POST CODES & SPECS - please take a look and let me know if questions remain.

You post a photo of a deck where the rail is supported by the balusters only. No Posts. Do the codes allow this?

Steve

In my OPINION the seller's agent does not have your daughter's safety in mind and is simply trying to speed and simplify the sale and perhaps to maximize his or her commission.

It doesn't matter if the steps are "grandfathered" in without a railing. If someone falls off they'll be just as hurt, grandfather or not. It's a valid safety concern.

The cost of curing this is not a show-stopper expense, it's a safety hazard.

In my OPINION the absence of a hand railing would not be a reason to stop the purchase of a home I wanted (which is why I hold the naysayer realtor in low esteem). The cost-to-cure is a tiny fraction of a percent of the value of the home. If the seller doesn't want to spring for that safety correction the buyer should do so.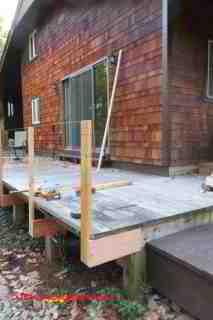 If for other reasons your daughter goes ahead with the purchase, just as I'd have advised the seller and listing broker I warn that a stairway without guards and handrails is a trip and fall hazard.
Hazards might be even greater when many strangers are visiting the property: prospective buyers, realtors, appraisers, movers, repair people called in to tune up the home for its new owners.
So I'd like to see a handrail installed promptly, and I'd expect your daughter to warn her movers to take extra care on the railingless stair if she's moving in before that's done.

My daughter is buying a home where you have to climb five steps to reach the front porch. There are no handrails on either side of the steps. The seller's agent says that it wasn't a code requirement in Fulton County, Georgia when the home was first built and purchased in 2001.
Seems like it would have been required. Anyone know where I can find this out.

Mike

3 ft or below the frost line is pretty standard. But I recommend using masonry piers and keeping the actual wooden post above ground for a longer post life.

Contact me at mikestreeandlandscaping@gmail.com

How deep must post be put ingriund, when installing a patio deck.
Dave G

Baluster spacings (typically 4") are given in detail at https://inspectapedia.com/decks/Deck_Railing_Install.php

How much space is required between verticals, between each other on handrail?

Bert:

In SOME jurisdictions the local building department might have a safety reason to keep kids from wandering under a deck so might want the lattice enclosure, but that's not something I've found in building codes.

The maximum height above ground that a typical inspector permits a deck or steps without a guardrail is 30" but that too will vary depending on local regulations where you live. In my opinion we should always have guardrails even if a deck is just a few inches or a foot above ground, since I have seen people chatting away at a deck party followed by taking a step backwards, falling off of a low deck and suffering an injury.

Also what is the min height that no steps or porch rail is required ?

if a contractor builds a deck does he have to fram and enclose the porch with lattice?

David,

Using Calhoun SC as an example

R312 Guards:

Required on porches, screened porches, balconies or raised floor surfaces more than 30 inches above the floor or grade (grade is
measured from the lowest point 6' out) must be 36 " high [along open stairs] and 4 " sphere openings -

Watch out: I've read that for Balconies in South Carolina you need to be at 42" - which I recommend anyway as safer. I'm looking for the specific citation.

SC has adopted the 2015 IBC with South Carolina Modifications - http://www.tompsc.com/152/Building-Code

The final legal authority is your LOCAL building inspector, so I'd give them a call.

How high does the railing need to be on a second story balcony in SC?

Not in my view. The needed guardrail isn't reduced by a planter.

Someone could easily trip or fall backwards over the planter

What is an acceptable safe height for a planter on a deck instead of a railing? Will 24" to 28 " suffice if the planter is 16-18" wide

email:doris@dabinteriordesign.com

What year did the building Codes adopt the 4" ball criteria on baluster spacing?

Steve,

Actually the requirements for guardrail vary depending on the jurisdiction that is where you live. It is also the case that you are a local Building Code Compliance inspector is the final legal Authority. However being deemed legal does not mean that a falling Hazard or injury risk are not present.

I was just told by a Va inspector I need a guard rail for deck less than 30" I'm thinking a guardrail is a few 4x4s bolted to deck and 2x4s attached across middle and top. I am not going overboard because I had a building inspector sign off on the height

Steve I don't quite understand the question. But if you're asking about acceptable spacing between the vertical balusters, where 4" is a common standard, check with your building department about what they'll accept.

Can i add on to existing iron porch hand rail with 6"between the posts instead of 4"?

If porch is 26 inches from ground is it required to have railing?

Connie

While your local code inspector is by law the final authority, I'm stunned by your note.
I would not expect to find any building code stating that steel handrails or guardrails are not permitted and that only wood guards and rails are permitted. That sounds more to me like arm-waving by someone who just wants to work with familiar materials.

Anonymous:
Guardrail width, meaning thickness? It's not specified unless part of the railing is serving as a handrail. Then handrail graspability rules apply.

Porch:
Shrubs may cushion the fall but they're not a substitute for a guardrail. The requirement for guardrails or handrails does vary by height above ground; at 2 ft. your local code inspector MIGHT not require railings. Ask your local inspector; let us know what you're told and where you live.

Barbara: What sort of fencing? Barbed wire? No. Other fencing that meets the strength, spacing, height specifications can be used. I'd avoid horizontal fencing as it's climbable and may not be accepted by your local officials.

We are upgrading our front steps and have to replace E erything. Currently, we have steel railings and was told that wood is code now. Can we combine both materials?

What is the legal width of guard rail

How msmy ft off ground do we provide spindles

Can fencing be used as guard rail on a deck?

Jim:

Typically most jurisdictions require a handrail at 3 risers or base the requirement on height above grade. However depending on who is using the stairs, a handrail may be recommended even for a single step. For a stairway used by the elderly or people who have trouble climbing stairs, a handrail is suggested for even one step.

exterior stair how few risers before handrail required mi. code

Question can I use wood for upper balcony railings

Jeff,

Without knowing anything about your building nor deck I can't suggest an exact repair.

In general one does not need a building permit simply to repair a loose railing connection. Your rsil, to be safe, indeed must meet the loading requirements discussed in these articles.

And yes connecting a rail through siding to building framing is ideal. We don't know what's under your stucco nor stucco thickness. Structural fasteners need to be long enough to pass 1.5" or more into a stud.

A stud finder should work if the stucco is not on metal lath.

Balcony railing wiggles a little bit. We would like to reinforce it where it is next to the wall. Do we need a permit in Hayward Ca? How do we find a stud location under stucco. I have a stud finder but I don't think it will work well on stucco. If we find the stud in the wall we can just bolt the railing upright to the stud in the wall?

Question:
(May 9, 2015) Kate Hauserman said:
The question you have answered at DECK & PORCH GUARDRAILINGS about the seating vs. a guard rail doesn't appear to answer the question posted in the sketch.
The question as I understand it, if there is a landscaped area adjacent to the retaining wall, can the guard rail be eliminated? You post a picture of dense planting alleviating the need for a guard rail-does the planting area have to be a specific width?
Reply:
Kate
As as you are asking about guardrailings at retaining walls you'll want to see the specifics about codes, standards, accidents and some suggestions found at
RETAINING WALL GUARD RAILINGS - see inspectapedia.com/exterior/Retaining_Wall_Guardrails.php
and don't hesitate to ask if questions remain.
Thanks

Question: maximum height of a deck before rails are required
(June 8, 2015) Anonymous said:
what is the max. height of a deck before rails are required?
Reply:
The maximum deck height before a railing is required varies by jurisdiction, typically 24-30" from ground level; some jurisdictions state the height as three step risers or more.
Keep in mind however that someone can be injured falling off a deck that's only a few inches high.
See the article series beginning at GUARDRAIL CONSTRUCTION, DECKS & RAMPS for railing height and other specifications.

...
Continue reading at DECK & PORCH GUARDRAILINGS for guardrailing specifications & codes, or select a topic from closely-related articles below, or see our complete INDEX to RELATED ARTICLES below.
Or see GUARDRAIL CONSTRUCTION, DECKS & RAMPS
Or see BALUSTERS, STAIR & RAILING for additional examples of stair and railing designs and problems.
Or see DECK CONSTRUCTION BEST PRACTICES - home
Or see DECK DESIGN & BUILD - home
Or see these
Guardrail / Railing Articles
Suggested citation for this web page
DECK & PORCH GUARDRAILINGS FAQs at InspectApedia.com - online encyclopedia of building & environmental inspection, testing, diagnosis, repair, & problem prevention advice.
Or use the SEARCH BOX found below to Ask a Question or Search InspectApedia
Or see
Or use the SEARCH BOX found below to Ask a Question or Search InspectApedia
...
Ask a Question or Search InspectApedia
Questions & answers or comments about deck, porch guard railings & building codes
Try the search box just below, or if you prefer, post a question or comment in the Comments box below and we will respond promptly.
Search the InspectApedia website
Technical Reviewers & References
Click to Show or Hide Citations & References
[2] §3209. Standard Guardrails. provides description of how guard rails should be constructed. Web search 09/02/2011,original source: www.dir.ca.gov/title8/3209.html
[3] "Retaining Walls, When is a Building Permit Required?" City of Folsom CA, web search 09/02/2011, original source: www.folsom.ca.us/civica/filebank/blobdload.asp?BlobID=2580
Decks and Porches, the JLC Guide to, Best Practices for Outdoor Spaces, Steve Bliss (Editor), The Journal of Light Construction, Williston VT, 2010 ISBN 10: 1-928580-42-4, ISBN 13: 978-1-928580-42-3, available from Amazon.com
Manual for the Inspection of Residential Wood Decks and Balconies, by Cheryl Anderson, Frank Woeste (Forest Products Society), & Joseph Loferski, October 2003, ISBN-13: 978-1892529343, $39.00 at Amazon.com or at the InspectAPediaBookstore
Books & Articles on Building & Environmental Inspection, Testing, Diagnosis, & Repair
Our recommended books about building & mechanical systems design, inspection, problem diagnosis, and repair, and about indoor environment and IAQ testing, diagnosis, and cleanup are at the InspectAPedia Bookstore. Also see our Book Reviews - InspectAPedia.
...