Re-Roofing Asphalt Shingle Roofs - Best Practices
InspectAPedia tolerates no conflicts of interest. We have no relationship with advertisers, products, or services discussed at this website.
Asphalt roof shingle re-roofing advice:
This article discusses how to prepare an existing asphalt shingle roof for a roof-over or for re-roofing with new asphalt shingles. This article series discusses best practices in the selection and installation of residential roofing.
We also discuss Proper asphalt shingle roof preparation for a roofover job. Roof-over details for multiple layer asphalt shingle roofs.
Characteristics of asphalt shingle roofing materials. Best practices for roofing material installation, flashing, ventilation, nailing, underlayment
We also provide a MASTER INDEX to this topic, or you can try the page top or bottom SEARCH BOX as a quick way to find information you need.
Reroofing Options on Asphalt Shingle Roofs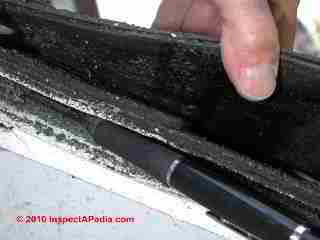 Adapted/paraphrased with permission from Best Practices Guide to Residential Construction, chapter on BEST ROOFING PRACTICES:
Reroofing saves the cost, trouble, and risks (water damage while the roof is exposed) associated with a tear-off.
If the roof is structurally sound, most building codes allow for two layers of asphalt shingles and some allow for a third on roofs with a 5:12 or steeper pitch.
Here is a typical excerpt limiting the number of shingle layers on a residential roof to two:
Roofs that already have two layers of 2 shingles should not be roofed again. Remove the existing shingles, then roof with
new shingles. - FHA Single Family Housing Policy Handbook, cited at REFERENCES
If the original shingles are not badly curled and the sheathing is sound (check for bouncy areas), then a reroof is a good alternative.
Shingle Type Recommendations for Re-Roofing Asphalt Shingles
The heavier the shingle on the new layer, the less likely it is that irregularities in the surface below will telegraph through. Laminated or other heavy-textured shingles work well, as they do not need to be carefully fitted to the existing shingles, and the irregular texture will conceal any small bumps or dips from the original roof.
Prep Work for Re-Roofing Over Asphalt Shingles
Inspect the condition of the existing roof and roof deck for numer of roof layers, soundness of roof decking, smoothness of existing roof installation, and other factors that determine whether or not you can do a roof-over or if a roof shingle tear-off is required.

Our asphalt roof shingle layer photo (left) shows that this roof already has three layers of shingles installed - more layers are not permitted. More warnings are below at "When is it Dangerous to Roof-Over Existing Roof Coverings?". - Ed.
Watch for damaged or un-sound roof decking; investigate, strip shingles entirely, and replace roof sheathing as needed before proceeding with the roof-over on the rest of the roof.

If removal of shingles is required on some sections of a roof-over job, be sure that you properly build-up or shim meeting points between the removed-shingle area and the rest of the roof, so that the roof surface remains both cosmetically acceptable and so that you do not create a wear point in the new shingles that have to lap over these roof shingle thickness transitions. - Ed.
Continuing from from Best Practices Guide to Residential Construction:
Clip any curled shingle corners and remove any curled tabs, replacing them with new shingle scraps as shims.
Install new drip edge on rakes and eaves. Specialty drip edge profiles designed for retrofitting wrap around the exposed roof edge, leaving a neat protected edge.
If the roof had no eaves flashing and one is needed, use a retrofit membrane such as AC Evenseal (NEI, Brentwood, New Hampshire).
When is it Forbiden or even Dangerous to Roof-Over Types of Existing Roof Coverings?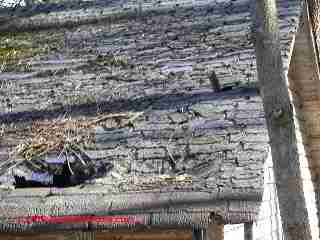 [Addition to the original article - Ed.]
The question of when is it necessary to tear-off an existing roof-covering vs. when is roofing-over an option for a leaky roof is one of a sickening amount of argument.
Strip Hard-Roof-Coverings: Model building codes address the easy part of the question: we do not put a new layer of roofing material over rotted, damaged roof decks, nor over wet roofing, nor over hard-material roofing such as slate, fiber cement, clay tiles, or wood shake roofs. [IBC 1510.3].
Limit Number of Roof Covering Layers: Local building departments in many jurisdictions will permit multiple layers of some but not all roofing materials. Most won't permit more than three layers of asphalt shingles on a roof.

The issues are with nailing security, wind uplift, shorter life of asphalt materials over an uneven surface, effects of moisture trapped between roof layers, and possibly fire and roof covering weight loading safety concerns.
Threshold of Percent of Damage or Worn-Out Roof: Roofing contractors often will opine that if 25% or more of the roof area is at or beyond end of life then it is more-economical and smarter to tear off the existing roof, replace any questionable roof decking (and framing), and install a new roof.

The contractor won't want to warrant the entire roof against leaks if she is repairing only a limited area of it.
Watch out: Check roof deck condition: if you are stripping roof shingles entirely from a roof deck, either because of their poor and rough-surface condition (not suitable to shingle-over), or because portions of the roof deck itself need to be replaced (perhaps due to rot, insect damage, water damage), be sure that you properly identify the type of roof sheathing used and its condition over the entire roof deck.
Don't even think about roofing-over a structure whose roof deck is in the condition shown in our photograph at left. But a careful inspection may be required to detect more subtle but dangerous roof deck conditions.
Watch out: Life Safety Issues: Walking on an old water-damaged roof with an un-sound roof deck can result in serious injury if a worker steps into a soft area and falls through the roof - a hazard more likely with thin plywood sheathing (on some low-cost homes as thin as 3/8" or even 1/4") and also more likely where the roof is known to have been leaking, or finally, where fiberboard roof sheathing has been used.
Roof deck fall through report: In the 1980's when we [DJF] were working on a roof-over job for a 1960's house we had observed from the building attic that thin 1/4" plywood had been used for roof sheathing and we already had a concern about the nail-holding ability of that material to prevent a roof blow-off.
We had also seen evidence of prior leaks on the north slope of the roof. But we failed to spot badly damaged roof sheathing in one area of the roof. After our in-attic inspection, our worker who weighed the least, D. S., was walking over one slope of this modestly-pitched hipped roof when she stepped right through a section of soft roof decking. Luckily D.S. was not hurt, but a fall off or fall-through injury could have been very serious.
See ROOF SHINGLE TEAR-OFF PROCEDURE FOR HOMASOTE PRODUCTS [PDF], reproduced with permission of the Journal of Light Construction.

More about fiberboard roof and wall sheathing is at FIBERBOARD SHEATHING, Celotex Homasote & Other .
See "WHEN REROOFING, SHOULD YOU TEAR OFF OR RECOVER?" [PDF copy] Thomas L. Smith, director of NRCA's technology and research, originally published by the NRC's Professional Roofing magazine.

This article concludes that in some roof jobs a roof re-cover approach can be a viable operation and re-covering existing roof surfaces has been successfully used on many roof jobs, but it involves greater risks than a tear-off. The author points out that some roofing industry trade publications cite the roof-over option as a means of reducing waste disposal costs, but the author points out some concerns with roof-over re-roofing jobs in some conditions, including

life safety issues (as we explain above)
leaving high-moisture-content insulation in place when re-roofing
the structure may lack adequate strength to support the weight of an additional layer of roof covering
Best Practices Guide to Residential Construction continues:
Starter Course for Re-Roofing Asphalt Shingles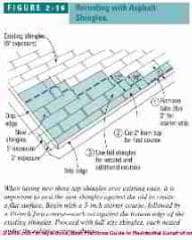 If laying three-tab shingles over three tab shingles, it is important to nest the new shingles against the old to create a flat surface as Friedman elaborates just below.
This process starts with a 5-inch starter strip fit along the eaves and set against the second course of existing shingles (see Figure 2-16).
DF Notes:
Notice that in re-roofing the starter strip is an inch less in width than when installing new shingles over a fresh roof-deck, shown in our asphalt shingle roofing guide at ASPHALT SHINGLE STARTER COURSE INSTALLATION
That's to avoid a raised ridge and to let the new full shingle course lay flat atop the original shingles. In essence when I [DJF] installed shingles over an existing roof, for maximum roof life I want the shingles to lay flat - raised ridges in asphalt shingle mean bending that means wear that means shorter shingle life.
So the upper edge of each new shingle course butts against the lower edge of the appropriate existing shingles on the roof above the course being installed. That will let the shingles lay flat on the roof. Only the first course needs support below - that's why we cut a special starter strip of more-narrow width than for a new roof installation.
The special starter strip width is equal to the exposure width (usually 5") of the existing roof.
Even before installing the starter strip or underlayment you should install drip edge flashing along all roof edges.

See DRIP EDGE FLASHING for ROOFS
Next install a course of shingles cut down to 10 inches wide, so they fit against the bottom edge of the existing third course (this creates a new 3-inch first course). After that, shingling should proceed normally, fitting each course up against the bottom of an existing course.
Fastening / Nailing Details When Re-Roofing with Asphalt Shingles
Use galvanized roofing nails long enough to fully penetrate the sheathing, typically 1-1/2 inches for a second roof and 1 3/4 inches for a third. Nesting each new row below an existing one keeps the new nails 2 inches below the existing, which will help minimize any splitting of the sheathing.
Flashings for Re-Roofing Asphalt Shingles
Depending on their condition and accessibility, some flashings can be reused. New shingles may be able to tuck under existing step flashing, chimney flashings, and front-wall flashings. If they are deteriorated, they must be replaced along with vent boots.
See FLASHING ROOF WALL DETAILS and FLASHING ROOF-WALL SNAFU for specifications of roof-wall flashing and for some photo-examples of troubles with existing step and counter flashing when re-roofing an existing structure.
Valley Details for Re-Roofing Asphalt Shingles
Any type of valley flashing will work and simply lays over the existing flashing (except in a tear-off, where all flashings should be replaced).
Unless a metal valley flashing is used, the first step is to line the existing valley with a new underlayment consisting of either 90-pound roll roofing or a more durable modified bitumen membrane. Then install either a closed or woven valley as described above.
See roof valley details at ASPHALT SHINGLE VALLEY FLASHING.
-- Adapted with permission from Best Practices Guide to Residential Construction.
Resources: Roofing Materials & Equipment Suppliers
Manufacturers
Asphalt Shingles
Atlas Roofing Corp. www.atlasroofing.com Fiberglass and organic felt shingles
Certainteed Roofing www.certainteed.com Fiberglass shingles
Elk Premium Building Products www.elkcorp.com Fiberglass shingles
GAF Materials Corp. www.gaf.com Fiberglass shingles
Georgia-Pacific Corp. www.gp.com/build Fiberglass and organic felt shingles
IKO www.iko.com Fiberglass and organic felt shingles
Owens Corning www.owenscorning.com Fiberglass shingles
Tamko Roofing Products www.tamko.com Fiberglass and organic felt shingles
Ridge Vents
Air Vent/A Gibraltar Company www.airvent.com A complete line of roof ventilation products, including shingle-over and exposed-ridge vents with exterior wind baffles and internal weather filters. Also soffit and drip edge vents and passive and powered attic turbine-type vents.
Benjamin Obdyke www.benjaminobdyke.com Shingle-over ridge vents. Low-profile Roll Vent uses nylonmatrix. Extractor vent is molded polypropylene with internal and external baffles.
Cor-A-Vent www.cor-a-vent.com Shingle-over low-profile ridge vents, including Cor-a-vent, Fold-a-vent, and X-5 ridge vent, designed for extreme weather. Corrugated core.
GAF Materials Corp. www.gaf.com Cobra vent: roll-out shingle-over ridge vent with a polyester-matrix core 102 CHAPTER 2 | Roofing
Mid-America Building Products www.midamericabuilding.com Ridge Master and Hip Master shingle-over molded plastic ridge vents with internal baffles and foam filter
Owens Corning www.owenscorning.com VentSure corrugated polypropylene ridge vents; also passive roof vents and soffit vents
Trimline Building Products www.trimline-products.com Shingle-over low-profile ridge vents, Flow-Thru battens for tile roofs
Elk Premium Building Products www.elkcorp.com Highpoint polypropylene shingle-over ridge vents
Tamko Roofing Products www.tamko.com Shingle-over ridge matrix–type Roll Vent and Rapid Ridge (nail gun version) and Coolridge, which is molded polypropylene with external and internal baffles
Venting Underlayments
Benjamin Obdyke www.benjaminobdyke.com Cedar Breather, a 3/8 -in.-thick matrix-type underlayment designed to provide ventilation and drainage space under wood roofing
More Information about Roofing Materials, Methods, Standards
Asphalt Roofing Manufacturers Association (ARMA) www.asphaltroofing.org
Cedar Shake and Shingle Bureau www.cedarbureau.org
Metal Roofing Alliance www.metalroofing.com
Tile Roofing Institute www.tileroofing.org
This article includes excerpts or adaptations from Best Practices Guide to Residential Construction, by Steven Bliss, courtesy of Wiley & Sons.
Also see the roofing article links listed at the ARTICLE INDEX the bottom of this article and our roofing home page: ROOFING INSPECTION & REPAIR.
-- Adapted with permission from Best Practices Guide to Residential Construction.
...
Continue reading at ASPHALT SHINGLE INSTALLATION or select a topic from closely-related articles below, or see our complete INDEX to RELATED ARTICLES below.
Or see ASBESTOS ROOFING WEAR SIGNS
Or see ASPHALT SHINGLE UNDERLAYMENT SPECS
Or see CLAY TILE ROOFING
Or see EPDM, RUBBER, PVC ROOFING
Or see EPDM ROOF LEAK REPAIRS
Or see FIBER CEMENT SHINGLE REPAIRS
Or see LIFE EXPECTANCY of METAL ROOFS
Or see ROOF LEAK DIAGNOSIS & REPAIR
Or see SLATE ROOF REPAIRS
Or see SLATE ROOF LEAKS, TEMPORARY REPAIR
Or see WARRANTIES for ROOF SHINGLES
Suggested citation for this web page
ASPHALT SHINGLE RE-ROOF GUIDE at InspectApedia.com - online encyclopedia of building & environmental inspection, testing, diagnosis, repair, & problem prevention advice.
Or use the SEARCH BOX found below to Ask a Question or Search InspectApedia
...
Frequently Asked Questions (FAQs)
Try the search box below or CONTACT US by email if you cannot find the answer you need at InspectApedia.
Question: average cost for a tear-off re-roof job for 2200 sq.ft.
(Apr 30, 2011) Anonymous said:
Please what is the average cost for a 2200 sg ft ripe off roof,gaf,timberlin,ice shiels ,etc.?
Reply:
Details on Estimating Roofing Costs.
A very general number for re-roofing with asphalt shingles might be $100/square or about a dollar per square foot. BUT you cannot use this number reliably.
Roof replacement costs vary widely by area of the U.S. as well as by factors peculiar to the individual building such as building height, roof slope (very steep, can't walk-on, more costly to re-roof), and the need for incidental repairs of roof decking and flashing. Also the complexity of the roof is an important factor - a single simple gable roof with no intersecting roofs and valleys is easier, faster, less costly to re-roof. Finally the cost to dispose of the torn-off shingles may vary widely by area too. So you will want estimates from two or three local roofers. Be sure to read bids carefully as there may be differences in what is included in the work.

(Oct 12, 2011) Anonymous said:
I dont know where alot of these roofing job bids are coming from but $100 isn't even realistic any more. Be careful if a contractor is that low, they may be using seconds. it rumored the some of the big home improvement sores are selling these
My whole sale price has crossed the $100/sq for most products. With labor, the average 20 square roof can easily cost 10k.
Also check your local building requirements fo tearoff requirements,ice and water shield,wind requiements.
Most areas require all damaged layers are removed to the deck befor a new layer is installed
Other than just old age, most roof damage is covered by your homeowners policy. You might try calling a claim with the help of a trusted roofing contractor. This can greatly reduce your out of pocket costs.
Question:
Jan 14, 2013) Jerry said:
I was told by a friend that you can not put the "architectural" sytle shingle (fiberglass type) over any old roofing. I have the 3 tab style on my house, and needs to be covered, they are fairly nice and tight and flat, very little to no cupping or curled, just worn. Can I do this, as it's only a single layer, and would be nice not to deal with the tear off, clean up, rain, etc . . . or do I have to use 3 tab again over these?
Reply:
It is common practice to add a second layer of shingles over an existing single layer provided the roof decking is intact and the roof surface is flat. That can be either architectural shingles or conventional 3-tab shingles. But check the shingle warranty from your shingle manufacturer. Some warranties may be affected by a mult-layer installation.
Question:
(Sept 17, 2014) Anonymous said:
I'll be re-roofing an addition soon. Going over an existing roof(single layer).
I have a question on the 'hip' in this roof. (roof is an L -shape)
SHould I remove the existing HIP shingles before I start, or should I go right over them?
ALso, I am thinking longer nails? Is 1-1/4 OK. Or should I use 1-1/2?
The existing roof is also 25 year 3 tabbers.

Reply:
x
Question: ok to re-use blown-off roof shingles?
(May 22, 2015) Bruiser said:
We had a 3 tab asphalt shingle blow off. Is it ok to reuse the shingle with no damage?
Reply:
Sure, Bruiser you can re-use an un-damaged roof shingle that blew off, but you may want to add a few dabs of roof cement in the proper location to glue down the tabs to avoid wind-blow-off again.
Question: How do you re roof with timberline shingles now that they are 13 inches in width
(June 1, 2015) Anonymous said:
How do you re roof with timberline shingles now that they are 13 inches in width

Reply:
The shingle exposure in a re-roof job needs to match the shingle exposure of the under-layer of shingles or you may see ripples or lines parallel to the eaves telegraphing through the new roof layer - and ultimately those lines may become early wear points.
...
Ask a Question or Search InspectApedia
Try the search box just below, or if you prefer, post a question or comment in the Comments box below and we will respond promptly.
Search the InspectApedia website
Technical Reviewers & References
Click to Show or Hide Citations & References
Books & Articles on Building & Environmental Inspection, Testing, Diagnosis, & Repair
Our recommended books about building & mechanical systems design, inspection, problem diagnosis, and repair, and about indoor environment and IAQ testing, diagnosis, and cleanup are at the InspectAPedia Bookstore. Also see our Book Reviews - InspectAPedia.
Best Practices Guide to Residential Construction, by Steven Bliss. John Wiley & Sons, 2006. ISBN-10: 0471648361, ISBN-13: 978-0471648369, Hardcover: 320 pages, available from Amazon.com and also Wiley.com. See our book review of this publication.
Decks and Porches, the JLC Guide to, Best Practices for Outdoor Spaces, Steve Bliss (Editor), The Journal of Light Construction, Williston VT, 2010 ISBN 10: 1-928580-42-4, ISBN 13: 978-1-928580-42-3, available from Amazon.com
The Journal of Light Construction has generously given reprint permission to InspectAPedia.com for this article. All rights and contents are ©Journal of Light Construction and may not be reproduced in any form.
Architectural elements: the technological revolution: Galvanized iron roof plates and corrugated sheets; cast iron facades, columns, door and window caps, ... (American historical catalog collection), Diana S Waite, available used out of Amazon.
Building Pathology, Deterioration, Diagnostics, and Intervention, Samuel Y. Harris, P.E., AIA, Esq., ISBN 0-471-33172-4, John Wiley & Sons, 2001 [General building science-DF] ISBN-10: 0471331724 ISBN-13: 978-0471331728
Building Pathology: Principles and Practice, David Watt, Wiley-Blackwell; 2 edition (March 7, 2008) ISBN-10: 1405161035 ISBN-13: 978-1405161039
Green Roof Construction and Maintenance, Kelley Luckett, McGraw-Hill Professional, 2009, ISBN-10: 007160880X, ISBN-13: 978-0071608800, quoting: Key questions to ask at each stage of the green building process Tested tips and techniques for successful structural design Construction methods for new and existing buildings Information on insulation, drainage, detailing, irrigation, and plant selection Details on optimal soil formulation Illustrations featuring various stages of construction Best practices for green roof maintenance A survey of environmental benefits, including evapo-transpiration, storm-water management, habitat restoration, and improvement of air quality Tips on the LEED design and certification process Considerations for assessing return on investment Color photographs of successfully installed green roofs Useful checklists, tables, and charts
Low Slope Roofing, Manual of, 4th Ed., C.W. Griffin, Richard Fricklas, McGraw-Hill Professional; 4 edition, 2006, ISBN-10: 007145828X, ISBN-13: 978-0071458283

Roof failure causes in depth (and specific methods for avoiding them)
Roof design fundamentals and flourishes, based on voluminous industry research and experience
New technologies and materials -- using them safely and correctly
Comprehensive coverage of all major roofing systems pecifications, inspection, and maintenance tools for roofing work

Metal Roofing, an Illustrated Guide, R.A. Knowlton , [metal shingle roofs],
Patio Roofs, how to build, Sunset Books
Problems in Roofing Design, B. Harrison McCampbell, Butterworth Heineman, 1991 ISBN 0-7506-9162-X (available used)
Roofing The Right Way, Steven Bolt, McGraw-Hill Professional; 3rd Ed (1996), ISBN-10: 0070066507, ISBN-13: 978-0070066502
Slate Roofs, National Slate Association, 1926, reprinted 1977 by Vermont Structural Slate Co., Inc., Fair Haven, VT 05743, 802-265-4933/34. (We recommend this book if you can find it. It has gone in and out of print on occasion.)
Roof Tiling & Slating, a Practical Guide, Kevin Taylor, Crowood Press (2008), ISBN 978-1847970237,
If you have never fixed a roof tile or slate before but have wondered how to go about repairing or replacing them, then this is the book for you. Many of the technical books about roof tiling and slating are rather vague and conveniently ignore some of the trickier problems and how they can be resolved. In Roof Tiling and Slating, the author rejects this cautious approach. Kevin Taylor uses both his extensive knowledge of the trade and his ability to explain the subject in easily understandable terms, to demonstrate how to carry out the work safely to a high standard, using tried and tested methods. 
This clay roof tile guide considers the various types of tiles, slates, and roofing materials on the market as well as their uses, how to estimate the required quantities, and where to buy them. It also discusses how to check and assess a roof and how to identify and rectify problems; describes how to efficiently "set out" roofs from small, simple jobs to larger and more complicated projects, thus making the work quicker, simpler, and neater; examines the correct and the incorrect ways of installing background materials such as underlay, battens, and valley liners; explains how to install interlocking tiles, plain tiles, and artificial and natural slates; covers both modern and traditional methods and skills, including cutting materials by hand without the assistance of power tools; and provides invaluable guidance on repairs and maintenance issues, and highlights common mistakes and how they can be avoided. The author, Kevin Taylor, works for the National Federation of Roofing Contractors as a technical manager presenting technical advice and providing education and training for young roofers.
...